4Shared Music App is developed and offered by the popular cloud storage service – 4Shared which is available for both Android and iOS OS. 4Shared Music is an awesome application and one of the most popular music apps. It has more than 12 million users and the number is still increasing. Unlike many popular mp3 music downloader apps we have listed, 4Shared is different and the best in class. 4Shared Music App allows users to download all its contents including music files completely free and share your own.
4Shared Music app is a wonderful and user-friendly application, which enables users to stream their favorite tracks from 4Shared and create and manage playlists directly on their device. 4Shared Music App is a perfect and convenient way to keep all your favorite music at hand.
4Shared Music App Features
Let's see some of the main features of 4Shared Music App which makes it one of the best free mp3 downloaders app.
Simple & Friendly UI: 4Shared Music App has a simple, clean and friendly User Interface and Experience. It is a straightforward app, and all the functions are intuitive. Installing and Signing up is easy and can be done in a matter of minutes. It does not have any hidden menu, all the menu are displayed on the top bar of the screen. Searching and downloading is also as simple as creating and sending a text message.

Large Database:
4Shared Music App has one of the largest of songs, not only songs, all kinds and types of files. As of writing this post, it has more than 6 million songs, making sure that the availability of track you look is higher. So, there is less possibility that a song or file that you search for are not found on 4Shared.
Unlike many other apps, users are with 100% access to all the contents. If you are concern about your phone storage and data, you can always move to the cloud storage with one-click without downloading to your phone. Please note that all the songs or files on 4Shared are uploaded by users. If you don't find what you are looking, it means that nobody has uploaded them to 4Shared.

Optimized Search:
4Shared app comes with a powerful search function. Searching is easy and takes just a second for the results to show up. 4Shared Music app has an advanced predictive search capability which provides intelligent suggestions to users.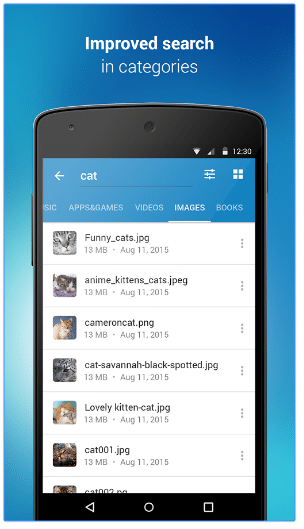 Free Download & Access:
Unlike many other free mp3 downloaders, the main focus of 4Shared is to provide 100% free and access to its contents. Not only that, the app is free, everything else is free, even for cloud storage. This is the most amazing feature of the 4Shared music app, users get unlimited access to every feature of the 4Shared free of charge.
Good Quality: All the music files available on the 4Shared app are of high quality. The quality of the music stream is also top-notch.
Good inbuilt Player: 4Shared has a very good in-built audio player to preview or play songs before downloading them. Not only you can stream any track, but it also allows users to listen to radio stations online. There are 3 playing modes such as normal, repeat and shuffle which you can choose the most convenient one for you. It will make your listening-to-music experience absolutely incomparable.
Music Files & Playlist Management: 4Shared lets you manage your music and other files, stored at your account at 4shared.com. You can add, copy, rename or delete any files stored at your account. Not only that you can now virtually create your new playlists and store them at your 4Shared account with 4Shared Music. If you want you can rename, copy or delete any of them, right from your phone. You can share your playlists with friends. You can also download your playlist for offline listening whenever you are. This feature basically allows you to put all your favorite songs and files in one place.
Cloud Storage: 4Shared Music app provides each user with 15 GB of storage space at 4Shared absolutely for free, with a possibility to upgrade to 100GB space. Even if your phone is running out of storage, you can easily upload your songs and files to your 4Shared Cloud storage. This is one of the unique features that has attracted many hearts of the 4Shared users.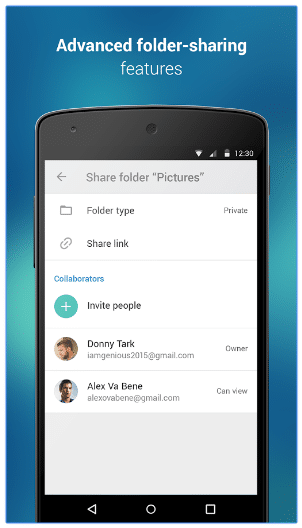 Social: 4Shared app comes with the ability to Sign up and Login options for Facebook, Google Plus which makes it easy for users to easily access their accounts. Not only that it also allows users to share their files or songs with friends on social networking sites.
Copyleft Songs: All the songs provided by 4Shared are free royalty, Copyleft Songs, a part of the creative commons license that is legal to use for free. You can enjoy music freely without any hassles, but certain terms and conditions may apply.
How to use 4Shared Music App
For first time users, here's a small guide to 4Shared Music App.
Creating 4Shared Account
First, download the app from the below-given link and install into your phone or device. When you open for the first time, you will be prompted to Sign up or create an account. Here, you will be provided with an options to either Sign up with your Facebook, Google account or your Email Id. Choose whatever is convenient for you. Once you sign up, will be taken to the home page and explore around.
How to search for music?
Open you 4Shared app, to search a song, select "Search Files" type or enter the name of the song or any keyword like the artists or album name on the Search bar. On the Menu select "Music" and tap search. Wait for a few seconds for the search results to display.
How to stream & Download music?
From the search results, find the track, you wish to listen to or download. Tap on the song to stream or preview and it will start playing automatically. To download the song, just tap on the "Download" button which is at the bottom right corner of the screen.
How to create playlists?
To create a Playlist, just tap on the music file and hold, till the menu appears. Once the menu appears, tap "Add to playlist". To add the track to the current playlist just tap on "Current playlist", or to create a new playlist and add the track to it, just select "New". Give the name and tap "Save". The playlist will be automatically saved in your 4Shared account. Whenever you log in, your playlists will appear on the screen.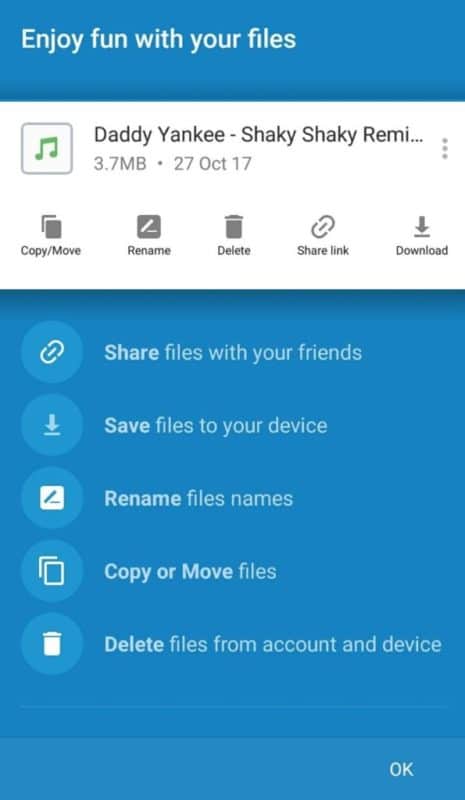 To manage your Playlists, just tap on the playlist, you wish to manage, and hold until the menu appears. Now, select options from the menu to play, rename, edit or delete the playlist.
4Shared Music App Additional Information
Last Updated: April 25, 2019
Size: Varies with the device
Current Version: It varies with device
Requirement: For Android, it varies with device. For iOS, it requires iOS 8.2 or later. Compatible with iPhone, iPad, and iPod touch.
Content Rating: Rated for 3+
Developed & Offered By: New IT Solutions
License: Free
4Shared Music App Permissions
All apps do require certain access to the phone to function properly. Even 4Shared needs to access certain things, let us see what permissions are required by 4Shared. 4Shared access to your contacts for sharing your files with emails from your contacts. It can also access your approximate location (network-based). Your Wi-Fi connection which is used for reading the state of a Wi-Fi connection. Your Photos, Media, Files to enables file upload from Android device. Also, read the contents of your USB storage for files management. Access to your download manager to download files and manage them and few other access rights.
4Shared Music App Reviews
Below are some of the worthy and honest reviews given by users;
Mosu:
I love this app. Just type in any song and it pulls it right up on your screen. You can listen to whatever you want to listen to.
Taylor: Amazing, love all the features, except that when you change one song's album name or art in a folder, it automatically changes all of the other songs in the folder to the same art or name. This is a problem when I'm trying to organize my music into the correct albums.
Raerd: I like this! It lets you listen offline with no ads and you can customize the track data and art. One thing about it that I'd like however is gap-less playback, I'm not sure if that's possible though. Good app altogether though!
Sean: A very great app. So easy to use and download the songs that I liked so fast. Thank you.
Indu: Superb app, we can save our favorite songs and karaoke and more. But it is slow sometimes. It may because of a network problem.
Divya: I think this is the best app for mp3 downloads and sharing a file with all over the world and they can download a good fight for free.
Jesse: Simply the best music app for anyone who is into music and quality. I've used this app for years now. The only thing I wish it would add is an option to always have the scrollbar when browsing, but that's extremely minor.
Ajang: The Best there is. It is without a doubt the best music app on the Market, one or two levels above its contemporaries. The UI is simple, yet amazing, the features are very complete and work perfectly, and the customization is literally out of this world. So, believe me, when I say, this is one of the best apps in the whole Android realm.
Tracy: Amazing! I thought I'd hate it because I had been searching for a while for something actually decent but it surpassed that. I love that you can change the color and it categorizes your songs by genre but, my favorite part is the sleep mode. I love that you can have it automatically turn off at a certain time and stop it if needed to. Overall, love it, thank you!
Peter: I love this app! Easiest to make playlists & excellent sound quality. However, after using it for a while, I'm dismayed that it automatically stops playing after two or three songs. I don't have the timer on so I don't know why it shuts down. Any help on this would be appreciated.
Download 4Shared Music App
You can download 4Shared Music App from your respective app store. If you are on Android, open your Play Store and search for 4Shared by New IT Solutions. Just tap on download to begin download and installation progress. If you are on iOS, open iTunes and similarly search and install the app.
Download 4Shared Music App Apk
If you can't install 4Shared Music app directly from your app store due to some phone storage issue or some other problems. You can always download 4Shared Music apk and install it manually. You can get the latest version of 4Shared Music apk. It is recommended to download 4Shared Music Apk only from the link we have provided to stay safe from malware.
There are many sites which offer apks files that are often infected with viruses that could cause serious problems to your phone. In case, your phone does not allow installation of apks or apps outside of app store. Just go to your phone settings and then to Security Settings. Under Security, Settings look for "Unknown Sources" enable or mark that "Unknown Sources" to allow installation of 4Shared Music Apk and other apks.
That concludes on the 4Shared Music app download. Hope this app helps you find your favorite songs and download them for offline listening. Feel free to check out other mp3 music downloader apps we have listed in this site.
Last updated on May 25, 2019.
SEE ALSO:
Download SoundCloud App for Android & iOS
Download Google Play Music
SuperCloud Song MP3 Downloader App (APK Download)
Simple Mp3 Downloader – Download Latest Version
Music Paradise Pro Download
SnapTube App Download for Android (Latest Version)
Music Maniac Pro MP3 Download for Android</>.