LiveXLive, formerly known as Slacker Radio is a live social network. It provides live streaming performances, audio and on-demand access to songs and album within one platform. Apart from live performances, LiveXLive gives users access to original contents, millions of songs and hundreds of stations that are curated by experts. It also gives the exclusive artist and industry interviews and programmes.
With a large collection of music and global coverage, it delivers contents from the world's top festivals and music concerts. Including all the top and popular concerts in Las Vegas, Rio, Hangout Music Festival and individual artist concert from around the world.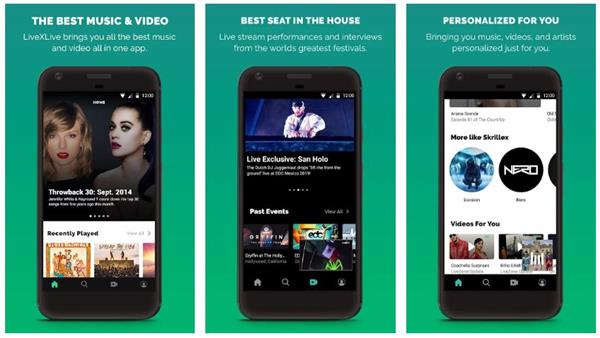 Features of LiveXLive
Let's see some features of one of the most complete streaming music services available today.
The Look: LiveXLive has Intuitive design, and user-friendly. It is very informative as it displays various information on the home page. On the top and home page, there are daily recommendations of tracks, and news feeds. Including featured songs, playlists, trendings and artists.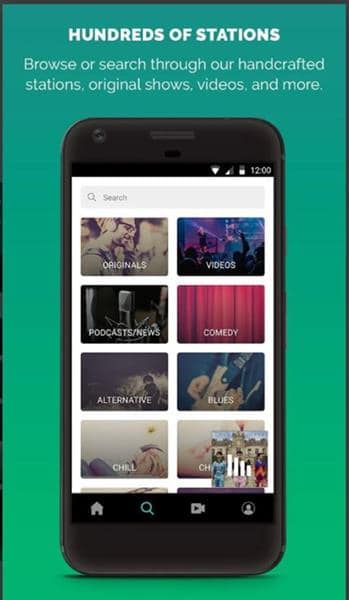 On the menu bar, there are various categories. The Live Events tap is for finding live and upcoming concerts. Stations for various Radio stations of different genres. News/Talk is for artist interviews, live performances, and music news updates.
Live Content: It has Live video streams of festivals and concerts as they're happening. This is one of the main and attractive features of LiveXLive. Even if you missed any live events, you can always replay events.
Stations Tab: Under the Stations tab or page, there are various music stations. These stations can be browsed based on genres such as chill, indie, hip-hop, decades, Christian, dance, and blues.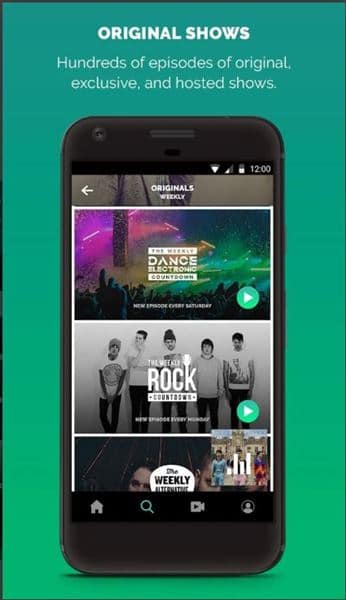 Misc Content: Not only the live events, LiveXLive has a music library, hand-crafted music stations and interactive contents created by the LiveXLive such as interviews. The app also provides personalized music recommendations for users. There are exclusive hosted audio and video shows every week. LiveXLive also provides unique interactive news and sports programmes.
Custom Playlists: You can create your own playlists and stations from the extensive LiveXLive library. The ability to easily discover, collect and share your favourite events, songs and other contents. However, some of these features may be available only with the Premium plan.
Offline: One of the best features is the ability to download contents for offline listening. You can download all of its contents such as your favourite stations, playlists and albums. All the downloads can be assessed easily. The LiveXLive mobile app sorts your downloads into categories or folders such as curated stations, your favourite custom stations, playlists and albums.
Unlimited Skips: The Premium plan gives users unlimited skips when listening to stations. In the free version, it offers the ability to skip up to six only.
On-demand Access: With On-demand access users can access millions of songs and albums with the subscription.
Other Features: Other features include such as adjusting Station settings to your favourites, ability to view a list of recently played contents. The options to turn off explicit content, Like or dislike a song. It also has the ability to view upcoming tracks, and additional features can be accessed through a premium version.
LiveXLive Subscription Plans:
LiveXLive offers three Subscription Plans- Basic, Plus and Premium.
Basic: The Basic plan is a free version with free access to Concert, festival live streams, personalized recommendations, audio station and Original shows and podcasts. With the Free version, there is a limited number of skips and Ads display. There is no offline listening and Play on-demand.
Plus ($3.99/Mont): The Plus plan removes Ads, and it gives Unlimited Skips and Maximum Audio Quality. Offline and play on-demand is not available.
Premium ($9.99/Month): The Premium plan gives access to all the contents and features.
Supported Devices and Operating Systems
LiveXLive is available for various devices and OS. It is available for desktops/PC and laptops via a web browser. LiveXLive mobile app for both Android and iOS devices. It also supports Amazon Fire TV, Apple TV and Roku. Also available on smart home devices such as Alexa-enabled devices and Chromecast via the LiveXLive website.
Download LiveXLive App
You can download and install LiveXLive on your device from the official website or by visiting your respective app stores. As stated above, LiveXLive is available for Android, iOS devices, Apple TV, Roku and Amazon Fire Tv.
Final Words
The LiveXLive App is user-friendly as compared to most music apps. With regards to a collection of songs, you might not find what you are looking for. Though, it's a good place to discover new songs and they are free. One of the best features of LiveXLive is the live streaming services that you won't find in traditional music apps. For viewing live concerts and events, it is highly recommended.
SEE ALSO:
SnapTube App Download for Android & iOS