Among the many music apps we have listed, SoundCloud is one of the best mp3 downloader apps. It is developed and offered by one of the most popular online music audio distribution platform – SoundCloud. It enables users to upload, record, promote, share and download songs.
SoundCloud app has become one of the most downloaded and popular music apps in the world. This music discovery app is available for both Android and iOS operating systems. In this post, we will see some of the main features of SoundCloud app, reviews and where to download the SoundCloud app.
SoundCloud is different from other music apps in many ways. It is more than just a streaming service, it's a social media music service. For music lovers, it's a great place to start. With SoundCloud, you can easily share your latest recordings or discover your favorite songs that you won't find anywhere else. SoundCloud let you listen to tracks from a wide range of countries, artists and genres. These ranges from classical, hip-hop, electronic, jazz, house, rock, sports, audiobooks, and more.
SoundCloud has more than 150 million tracks and it is still growing. It lets you connect with your favorite artists in order to listen to what they share as well as connect with your friends using the app. SoundCloud is not just about finding music and songs, but also listening and sharing with your friends. It is an evolution of the music & audio platform.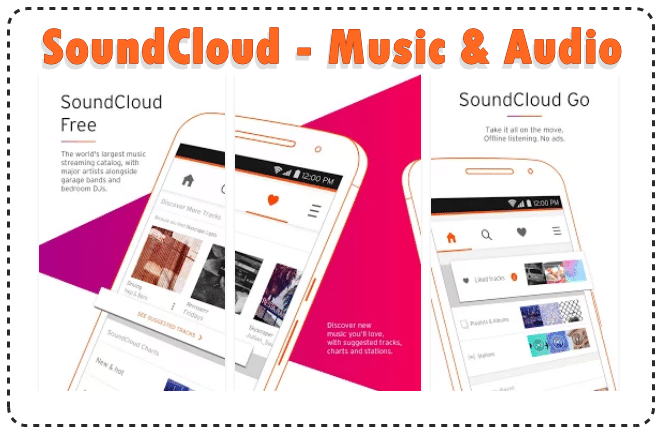 Features of SoundCloud App
Let's see what makes SoundCloud better than most of the music apps.
Simple & clean UI: SoundCloud app has a simple and friendly user interface. It is a straightforward app. On the main home page, there are different Playlists such as for chilling, partying, relaxing, studying, working out and sleeping. There are Charts such as New and Hot.
On top of the home page is the Search bar, Social tab for connecting with others, your activity like playlists, albums, and stations. The tap is the settings such as notifications, Recording tool and many. Responsive menus for genres, an optimized built-in player with its great sound quality and well polished.

Huge Database:
SoundCloud has one of the largest libraries of sound. It has more than 120 million tracks from emerging and established artists. SoundCloud beats all other music sharing services or apps in content diversity, encompassing all genres and making sound discovery a delight.
Because of its large database, there is a high chance of finding your favorite songs or music. You can discover incredible music in each genre with SoundCloud charts, from all-time greats to the newest and the hottest tracks.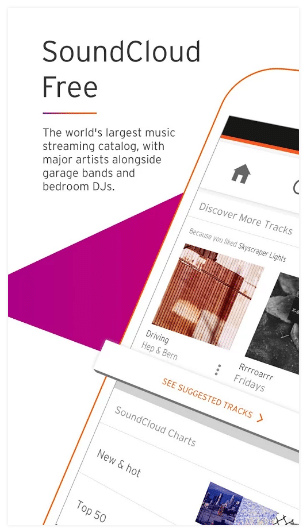 Powerful Search:
It has a very powerful and advanced search function with great speed. You can search by the name of the song, artist name or album. With its powerful search tool, it just takes a second to give the search results.
However, it may depend on the speed of your internet connection. You can also filter your search by tracks, people, albums and playlist as well. Not only that, but it also gives you suggested tracks based on your likes and listening habits.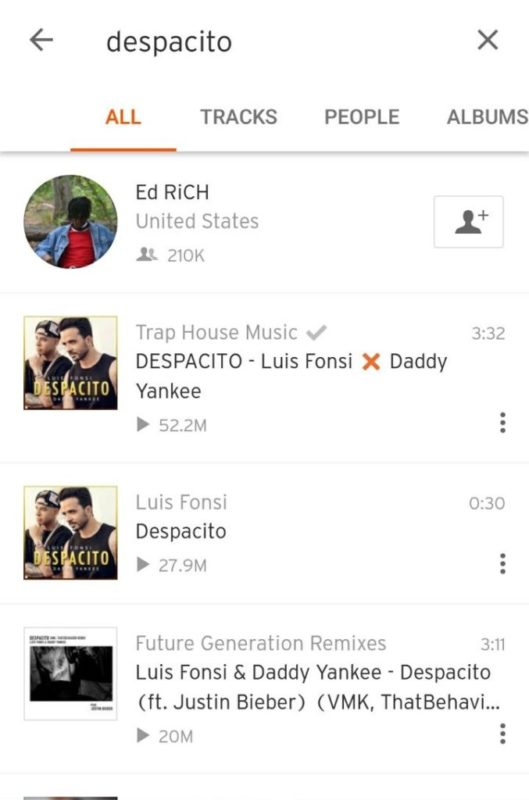 In-built Player:
It has a nice inbuilt player to stream or preview a song. It is not just a normal player, it comes with many other functions such as the ability to share the music and artist profile. It also displays the song information such as the upload date and the song description. It also allows you to easily access whatever you're currently listening to while you're browsing other tabs in the app.
Custom Playlists: It supports custom playlist. To create a playlist, just tap the three dots on it to add it to any one of your playlists. There are no limitations, you can create as many playlists as you want.
Station: You start a station to hear a series of similar tracks. You can also pick out the tracks you want in your own playlists and add them to a station with tracks that are similar. And you can always access your most recent stations from your profile.
Download or buy tracks: SoundCloud offers tracks to "download" or "buy". Many tracks are downloadable for free and purchasable.
Upload: As mentioned earlier, SoundCloud is social, meaning that anyone including you can upload your own music or audio tracks.
Social: You can interact with the vibrant community behind it continuously likes, shares, and comments on songs and creates playlists, making this app really exciting.
Soundcloud Subscriptions & Versions
SoundCloud has three Subscription plans which offer different access to its contents. These are;
SOUNDCLOUD FREE:
With the free version, you get access to over 120 million tracks from emerging and established artists. Like the paid version you will get suggested tracks based on your likes and listening habits. All basic functions or features such as search, stream, social. The ability to create playlists for parties, workouts, on the way to work, or whatever mood you're in.
SOUNDCLOUD GO:
With this plan you can discover, stream, and share a constantly expanding mix of music, anytime, anywhere. It gives you access to over 120 million tracks. The ability to listen offline everywhere you go. There are no annoying ads for an uninterrupted listening experience. Supporting artists by sharing a percentage of all revenue from SoundCloud Go is paid to creators on the platform. This plan comes at just $4.99/month.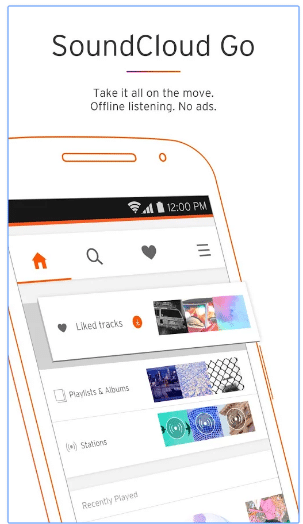 SOUNDCLOUD GO+:
If you upgrade to the Go+ plan, you get a fully expanded catalog of over 150 million tracks, including superstars from major labels and indies. The ability to listen offline, all music on SoundCloud is accessible to stream & save offline. There no ads and it offers 30 days free. GO+ subscription fee is $9.99/month.
SOUNDCLOUD PULSE:
This is an independent app specially developed for creators. If you make music, podcasts or any type of audio and upload it to SoundCloud, this app provides an easy way to manage your account.
Soundcloud App Additional Information
License: Free & Paid
Platform supported: Android and iOS
Last Updated: 17 September 2018
Version: 5.15.2
Size: 121 MB
Requirements & Compatibility: It requires iOS 8.0 or later. Compatible with iPhone, iPad, and iPod touch. For Android, it requires 4.1 and up running.
Content Rating: Rated for 12+.
App Permissions
The following are the permission required by the SoundCloud app to perform its task. It can find accounts on the device and access to Contacts. It can read the contents of your USB storage, modify or delete the contents of your USB storage. It can record audio and other access such as network connections, creating accounts and setting passwords and sync settings. It can use accounts on the device, prevent the device from sleeping, toggle sync on and off.
SoundCloud App Reviews
Here are some of the reviews and feedback on the SoundCloud App gave by users;
Atley: This is the best music app I have ever used, unlike Spotify which makes you pay for it all but this is just free.
Oliver: Soundcloud is the best music app on the market you can listen to anything you want for free. Commercial free is a must have on your phone great just that try it out you are going to love it.
Zuriel: This is an awesome app!. It is basically like Spotify but with more of the unnoticed songs. It is sad that not enough people appreciate the work of others instead of appreciating the originals. I think Soundcloud is awesome because it shows off all the other minor stuff that people have poured their hearts into.
Bogdan: Love "the upload" under discover but better recommendations could be made if only likes and reposts considered. Listening history doesn't always accurately represent my interests, especially when I'm just going through my stream.
Andreas: No words can describe the incredible array of diversity when it comes to selection. Whatever mood I find myself in there's a music genre for me on that day. Thank you so much, Mr. SoundCloud, up there in the heavens.
Samuel: Easily the best streaming app for lovers of house hands down, a massive selection of podcasts and remixes.
Janet: Soundcloud keeps up with all the podcasts I enjoy. Its search engine is thorough and easy to use. In all the time I've used it, I haven't figured out how to get it to stream the public radio station I listen to live. But Soundcloud knows the station and wants to make a virtual station based on the music it plays. I default to SoundCloud when I'm looking for a podcast other apps can't find.
Marko: Use it for a couple of days and I love it, great app! No problems so far and I believe there won't be problems. A nice addition to the app would be to filter the home tab. My home tab looks very messy with all these reposts.
Peter: An amazing app, has almost every song I've looked for from classical to heavy metal (with few exceptions, of course). It provides you with some crazy good recommendations and you can also listen, to this app's, music while not connected on the internet.
Download SoundCloud App
You can download SoundCloud from your respective app store. For Android, go to Google Play Store and search for SoundCloud. From the result list, select SoundCloud to install into your phone. For iOS devices, go to Apple iTunes and Search for SoundCloud and install.
When you use for the first, you will need to Sign up for SoundCloud account by using either your Email or Facebook account.
SoundCloud APK Download
You can't directly download and install from the app store or due to some other problems or due to low phone memory storage? Don't worry, you can always download the latest version of SoundCloud apk. Please download SoundCloud apk only from the link we have given to stay safe. There are many sites that offer certain apks that are often infected with malware that can cause various problems to your device.
In case, you can't install SoundCloud apk, go to your phone settings and head over to Security settings page. Under the Security, settings look for "Unknown Sources", tick or mark that to allow installation SoundCloud apk. This will not only allow SoundCloud apk, but all other apks or apps outside of Play Store.
That concludes on SoundCloud App. You may check out our list of best mp3 downloaders from below.
SEE ALSO:
Download Google Play Music
SuperCloud Song MP3 Downloader App (APK Download)
Download 4Shared Music App (Latest Version).
Simple Mp3 Downloader – Download Latest Version.
Music Paradise Pro Download
SnapTube App Download for Android (Latest Version)
Music Maniac Pro MP3 Download for Android.