We just sometimes wish that there was a free online music streaming service that has all of YouTube's giant library of music. A service that comes free of charge, with no monthly subscription and unlimited skips and seeks. Today we're going to review YMusic that streams YouTube videos in music format to your phone. With YMusic app, you will be able to enjoy all of YouTube's library, without the data charges of streaming videos.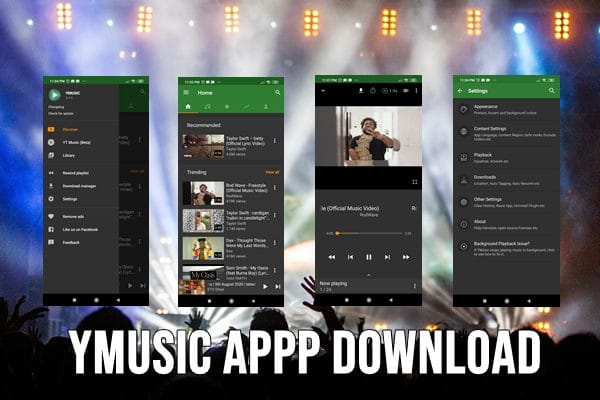 Features of YMusic App
As soon as you open up YMusic, you'll be greeted with your local music library located inside your phone's storage. This includes every audio file you have, including WhatsApp voice messages. If you open up my Ymusic's menu, you can select Discover which will bring you to what seems like the YouTube app. But YMusic comes with more options in terms of audio and video quality and download options.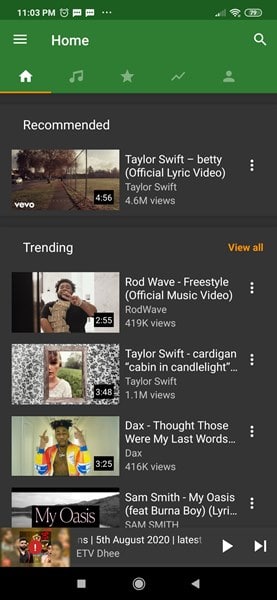 Next to each video, you'll see a three-dot menu, and if you tap on that you can either play the video, download it as mp3 formats, or using the more options button. You can download the video at whatever resolution you want. By default, YMusic streams any YouTube video and music format if you simply choose a video. This is great if you want to use YouTube as a free online music streaming service, without using a lot of bandwidth by also streaming the actual video altogether.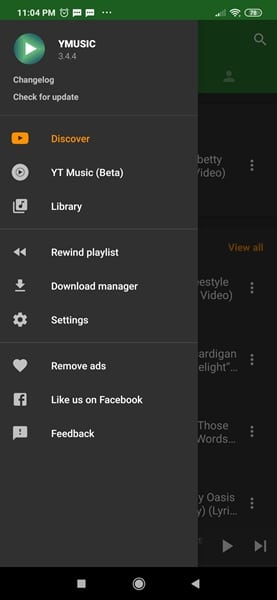 If you sign in with your Google account, you can see a customized list of videos in the recommended tab. It shows kind of the same content as YouTube's homepage. The app is ad-supported, but from what I can tell, only banner ads show up and nothing more intrusive than that. You can also change the appearance of the app from the settings menu and customize a bunch of stuff from there as well, including album art settings, download location and opting in for beta. Also, you can change the region, and get to see what other regions are uploading as well.
YMusic has a super powerful and lightweight music player integrated. It comes with a customizable interface with 81 colour combinations to choose from.
The player has custom equalizers, gapless playback with home screen widgets for easy access. The app built-in player also has captions.
YMusic will save you up to 90% of your consumed data and you don't have to worry about playing YouTube music with a slow network connection. Moreover, it can auto-detect the Artist name and Album name of the video. This makes your music search more convenient.
How to Use YMusic App
So, first, you need to download YMusic app from the link given below. After downloading the APK, just installed in your device and open it. It's very material friendly. Once you opened, you see the most popular songs and trending songs from your country. If you swipe from the left, you will see there are tabs.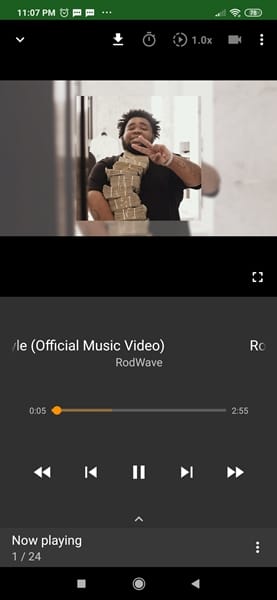 Click on the search icon and search for any song, which is available on YouTube. And it will show you all the songs, which are on YouTube. When you slide the song. It will start playing. On top of the video screen, there are options to Download, Timer and speed.
When you tap on the three dots you will see so many options. When you tap on audio as mp3. It will start downloading your audio. When you click on it, it will open the Download Manager of the app. And then go back, go on options, and click on Save audio, as fast. This will make the download consume fewer data. Opening Advanced download will let you change the song name, the artist name, and the album name. You can download all the formats in the 700dP.
Tapping on the Rewind Playlist will display of all your history and playlist. The settings tab will let you change the primary, Accent and background colour to any colour. The Content Settings will let you set the content region, language, Restricted mode, including folders and the, exclude folders. Here you can change the country to where you live. The default is said to be auto.
Under the settings, if you want to show the album art on the lock screen, you can turn it on. You can also enable or disable the tabs in the mp3 player. You can also set the maximum downloads of your choice and change the download folder. Also, you can see the beta updates by turning it on. When you swipe from the left and click on update and changelog. You can download the beta versions of the app to that.
Download YMusic App for Android
As normal, YMusic app is not available on the Play Store for download. If you want to get this app installed on your device, you can get it from XDA Developers or from the official website. Please note that you have to turn on unknown sources first from your device settings to install apps outside of Play Store. We hope you find this app useful, please do leave your feedback and share this post.
SEE ALSO:
Download LiveXLive App- Streaming Music and Live Events App