Simple Mp3 Downloader is no doubt one of the best free mp3 downloaders right now. As the name suggests, it is a simple app, that delivers mp3 songs for free. In everything we do in life, most of us do normally look for things that are easy and simple. This is the same in hunting for mp3 songs. We want to get our favorite songs easily and free for offline listening whenever we are. There are not many apps that can deliver and there are many apps that claim to provide free mp3 songs. However, a majority of such mp3 apps are below expectations. This Simple Mp3 Downloader app won't disappoint you, it will actually give you what it promises to deliver.
Simple Mp3 Downloader app allows users to download all kinds of legal mp3 songs for free. This app is a great source of MP3 tracks, all the songs provided by this app are free under creative commons license. It is very useful for those people who do not have an unlimited data plan. You can find new musical trends and genres of thousands of songs that are available for download. Like any other music downloader apps, you can create your own playlists and easily browse through your music. Nice inbuilt player to let you preview or play any songs before downloading them to your device.
Simple Mp3 Downloader Features
Let us see some of the main features which make this app so simple and one of the best mp3 downloader apps.
Simple UI: Simple mp3 downloader app has a simple, clean user-friendly Interface which makes it easy to use. Simple mp3 downloader focuses on simplicity and is very sleek and quite effective. It comes in 15 languages. The app works on Android versions as low as Android 2.2 and its maximum requirement is 4.3. The app is light, even if you have a problem with your phone storage this app won't consume much of your resources. The size of the app is just 4.6 MB, unlike other related apps that are huge. The app homepage display just three menus, Search, Download, and Library. It puts all your downloaded songs in one place, the Library, so you can easily access them whenever you need to play them.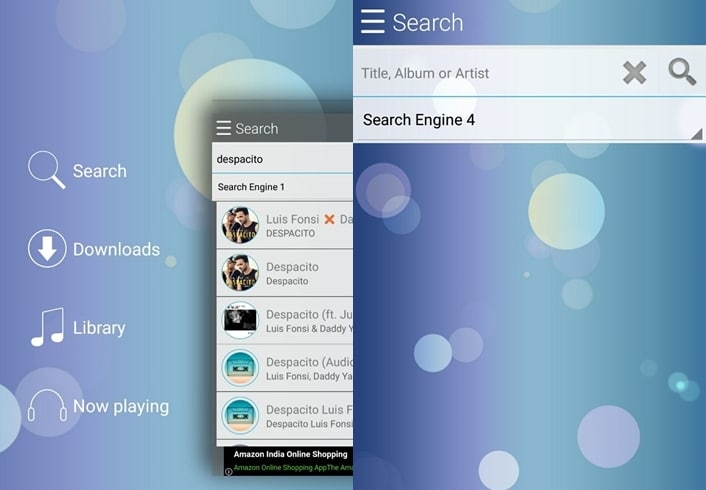 In-built Player: Simple mp3 music downloader comes with an inbuilt music player to let you preview any songs before download. not only that, but it also displays the song information like the artist name, the album it is playing. It does also provide Lyrics of the songs if available. The inbuilt music player can also play mp3 tracks outside of the app, so you can substitute your phone's default player. So, which means that it can play whatever music is on your device. It supports all formats like WAV, MP2, MP3, MID, WAM, and OGG.
Advanced Search: Simple MP3 Downloader comes with an advanced search function. Search is easy, you just have to type or enter the name of the song or of the artist name on the search bar. Once entered, tap the search icon, all the related search results will be displayed in a list and download the one you are looking for. the best part is that it comes with multiple search engines for a wider search. suppose, if a default search engine couldn't find the song you are looking for, you select another search engine. So this makes it better search results. It also comes with predictive search feature which suggests relevant options to you. The time taken by the app to provide the search results is also quite short.
Large Database & Legal: Simple Mp3 Downloader has a huge library of songs. You can access millions of songs, it's database is one of the most complete ones out there. All the tracks provided here are legal which are free Copyleft and Creative Commons licensed music. Simple Mp3 Downloader does not host these tracks, but sources from third-party sources. Using Simple Mp3 Downloader does not violate any laws of music sharing, so you can use your downloaded freely. It has all the different genres such as western, trap, ringtones, trip-hop, regional songs and so much more. With Simple MP3 Downloader app, you can think of any songs and download it in just a few seconds.
Fast Download: Simple mp3 Downloader improves your download speeds by optimizing the bandwidth whenever you download a song, your Internet connection is taken into consideration.
Most free apps usually come with annoying or popup ads, however, this app does come with ads, but not annoying which is placed at the bottom of the screen.
Simple mp3 Downloader is one of the best free application that allows you to download copyleft music directly to your phone. It is a great app for music lovers, who want to find all the songs they want to listen and have them for offline listening.
How To Use Simple mp3 Downloader
We have highlighted some of the main features of Simple mp3 Downloader above. Now, let's take you through on how to use this app. First thing first, get or download Simple mp3 Downloader apk from the download link given below. Once you have downloaded, go to your download folder and tap on the Simple mp3 Downloader to begin the installation process. Once you tapped, it will take you to a page displaying the permissions required by the app. Grant them by tapping on the "Install" button which is at the bottom right corner of the screen. Wait for a few seconds to let it complete the installation process. Once it finished the installation, tap on the "Open" or "Done" from the bottom screen. Once open, the app will directly take you to its homepage.
As mentioned above, the app has a simple layout. The top left main menu has three menus, there is a Search Bar on the home page. Just below the search bar, there are search engines in a drop-down list.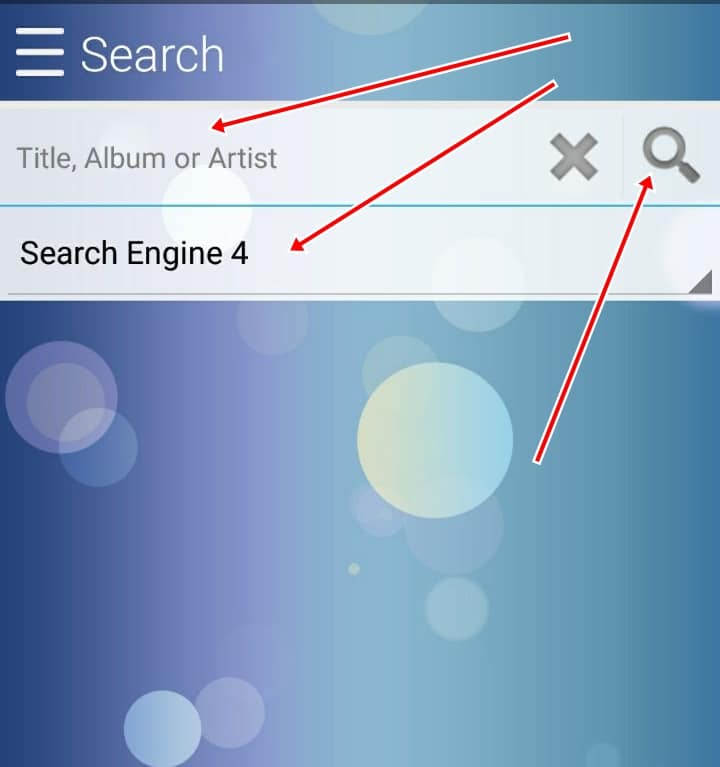 To Search a song, just type or enter the name of the song or artist name or the album. Once you finished entering, just tap on the Search icon and wait for a few seconds for the results.
The time taken for search may depend on your internet connection. For a normal or decent speed, it just takes only a few seconds for the results.
In case, if the default search engine couldn't find the song you are looking for, just change the search engine by tapping on the Search engine 1 and try the other engines. Screenshot above.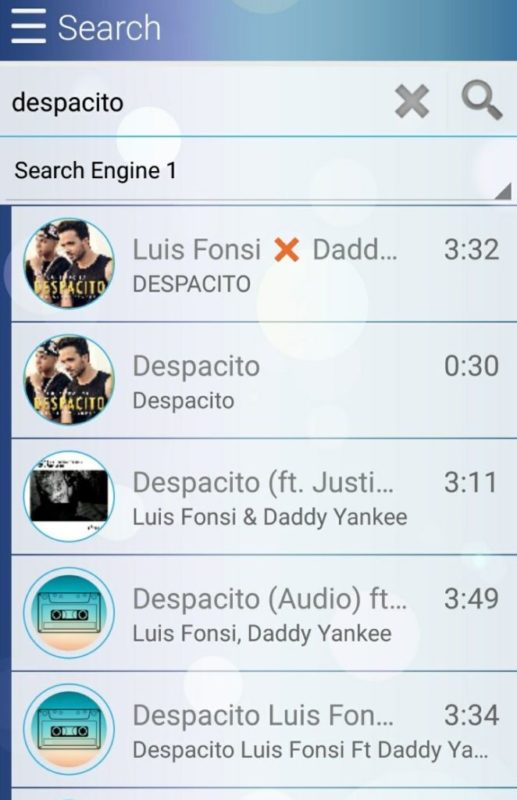 To download a song, just tap on the song from the results list, it will take you to the song page. Here you can preview the song before download or you can even edit the song information. If the lyrics are available for the song it will be displayed at the bottom of the page or below the download button.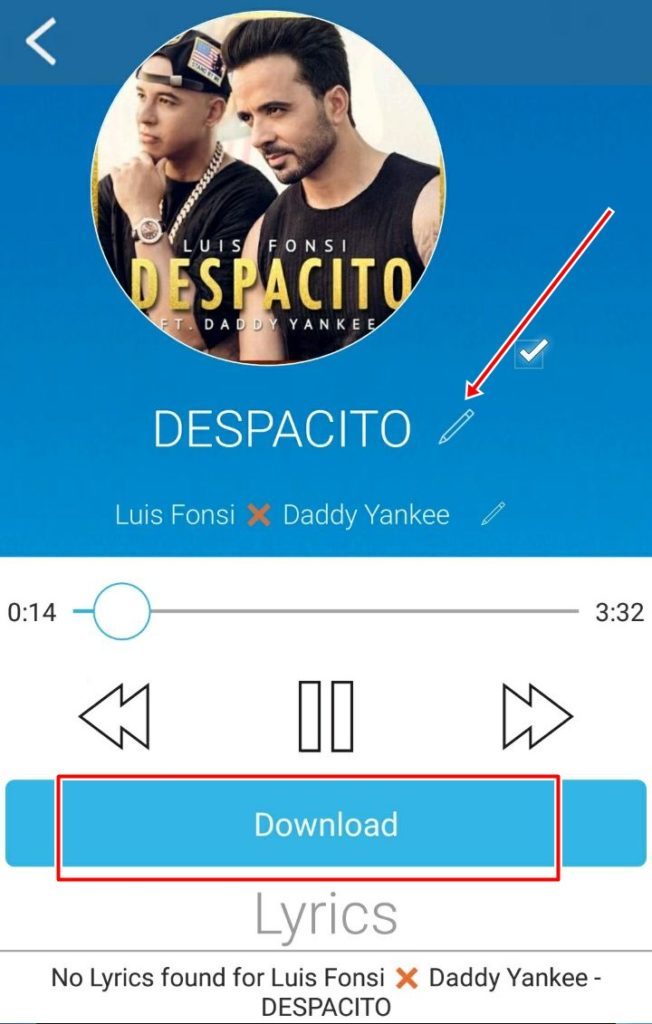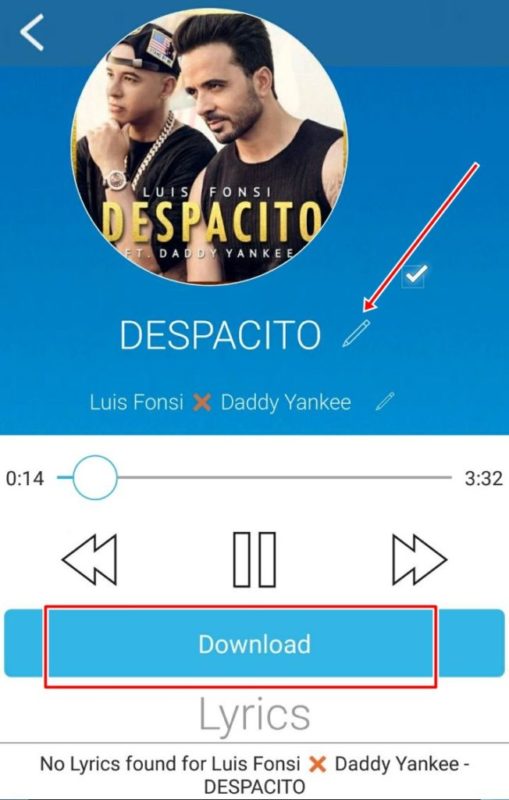 To edit the song info, just tap on the pencil icon and enter whatever you like. Once you are ready to download, just tap on the "Download" button to download the song. It will automatically start downloading the songs. All the downloaded songs are stored in the download folder.
Simple mp3 Downloader App Information
License: 100% Free
Operating System Supported: Android
Android Requirement: It requires Android 4.0 and up.
Language: 15 Languages supported. Default/primary language support is English.
Size: 5.05MB
Simple mp3 Downloader App Permissions
Simple mp3 Downloader app needs certain permissions to function properly. These permissions are common in Android apps and they are given automatically upon installation. Simple mp3 Downloader App can get access to your settings and also it can modify or delete the contents of your SD card. It can also read the contents of your SD card as well. It can access your phone status and identity and get your approximate location. Once you installed the app, these permissions are given and there is nothing much to worry about. This app is totally safe to use.
Simple Mp3 Downloader Reviews
These are some of the honest reviews on Simple Mp3 Downloader app given by users;
Gabby: I've been searching for a simple app just to download specific songs for when I don't have internet. It was so difficult to find something for that, I thought this app was too good to be true. It's perfect, exactly what I was looking for.
Skylar: Very easy to use, love that you can download songs straight into your device.
Brycten: It really downloads songs, and plays music no matter what. No Wi-Fi, no problem. Want to open other apps and listen to music, no problem.
Tim: This is the best music app ever. I can download music straight to my phone. Use music to video to edit my videos. And even set an alarm using any song I want…perfection. Compared to most, I like it and it's a great substitute for Google Play.
Dixie: So many great things to say! It actually works offline, and you get to find the exact song you want!
Andrew: This app beats any other music app around, thank you keep the awesome work up. THANK YOU and the fact it works offline is absolutely amazing and downloading. music from YouTube what a genius idea keep the brilliant ideas up.
Sierra: Only music app I've got to work!! I absolutely love and recommend it. I like this app a lot. I have been looking for something exactly like this for a very long time.
Alijah: I love this app because it has all my favorite songs that I can play in things like that.
Download Simple mp3 Downloader apk
Simple mp3 Downloader app is not available on the Google Play Store. This may due to some legal issues or policies laid down by Google. Get Simple mp3 downloader apk. Please be careful about downloading apk, there are many sites which offer apk are infected with certain malware and viruses that could cause harm to your phone. You are recommended to download Simple mp3 Downloader apk only from the above link.
In case, if you are unable to install Simple mp3 Downloader apk, you might need to grant permissions from your phone settings. You could do this by going to phone's Settings, under Settings head over to Security. Under your Security settings, there will be "Unknown Sources". Tick or mark "Unknown Sources" to allow installation of apps outside Play Store. This will even allow installation of Simple mp3 Downloader apk and all other apks.
That's it. Now you know everything about the Simple mp3 Downloader app, it's up to you now to try this amazing app. Please do check out other mp3 downloader apps we have listed in this site. If you know other good apps do let us know in the comments. And, please, if you like this app, share this post, so that others might also make use of this app.
SEE ALSO:
Download 4Shared Music App (Latest Version)
Download SoundCloud App for Android & iOS
Download Google Play Music
SuperCloud Song MP3 Downloader App (APK Download)
Music Paradise Pro Download
SnapTube App Download for Android (Latest Version)
Music Maniac Pro MP3 Download for Android
iTube for Android Free Download (Latest Version).