SnapTube is an amazing video downloader that can download any videos from online sources into mp4 and mp3 files. Not only from YouTube, but it can also convert videos into mp3 files from most of the popular video-sharing or hosting sites. As we know, YouTube and other video sites are the best sources of music, we can find almost any songs because of their huge database. There are times when we want to have them as mp3 files for offline listening.
Keeping this in mind, we have tried and tested some of the downloader apps that claim to convert videos into mp3 files. Among the many apps we have tested, we've found SnapTube as the best app for downloading videos into mp3 songs. In this post, we will walk you through the features of SnapTube, SnapTube app free download and reviews.
SnapTube Downloader is a simple tool, which works almost the same as the official YouTube app. However, SnapTube app lets you convert any videos into mp3 files from various videos sites like YouTube, Vimeo, LiveLeak, even videos posted on social networks like Facebook and Instagram.
SnapTube is no doubt one of the best YouTube Downloader or mp3 downloader. It is fast and one of the best convenient way to get mp3 songs. It is the choice of millions and is currently one of the most popular and used mp3 downloader apps.
Features of SnapTube App
Ok, let dive straight to some of the main features of SnapTube App that makes it as one of the best YouTube downloader and mp3 downloader.
Simple & User UI: SnapTube is designed to be simple, and it is easy to use. It has a clean and friendly interface. The main homepage displays all the supported sites, Popular and 11 different categories for easy access. The left main navigation menu has the Download folder, Apps, videos and Games recommendations. On top of the screen, there is a Search Bar for searching for your favourite songs. It is all in one video downloader.
Huge Library & Supported Sites: SnapTube does not host any files, instead it just pulls videos from supported sites or by letting users paste video URL. The app supports all the major video sites such as YouTube, Facebook, Instagram, WhatsApp, Dailymotion, Vine, Vimeo, Metacafe, Liveleak, Twitter, Soundcloud.com, mthai.com, Pagalworld.com, Dailytube.in, mrpopat.in, pinguda.com, 3gpmania.co, funnyordie.com, vid.meskymovies.in, videos.sapo.pt.
With SnapTube finding your favourite songs is easy. With such a large number of supported sites, chances of finding your songs are high. SnapTube is capable of downloading videos from these supported sites or converting them into mp3 files.
Fast & Multiple Downloads: SnapTube app comes with an advanced download technology. The app lets you download multiple files at once. All the downloads take place in the background, so you can continue browsing or do other things while downloading.
The app also takes into consideration the speed of your internet connection, to make sure that it does not affect your browsing activity. It is designed to consume fewer data and phone resources. If your phone or internet gets slow while downloading, you can also set the maximum download tasks from the app settings. It is capable of downloading up to 10 simultaneous downloads.
Built-in Player: SnapTube also comes with a powerful built-in player to let you stream or play. The player has all the basic features of the player. It can also function as the default player for your device. It functions as a standalone app, so you can even play video and audio files from your phone as well. It supports most formats such as mp4, mpeg, flv, mpg, mov, avi, webm, etc.
Playlist: Like the most advanced player, SnapTube also lets you create your custom playlist. It also automatically adds your download to the list. It comes with great customization options. You can edit, rename or delete any playlist.
Download Options: SnapTube App has the ability to download videos like MP4, M4a or MP3 formats with high quality. All the downloads are encrypted without any problem. For a better experience, it lets you download up to 4K resolution and 60 FPS and videos from 144p to 1600P.
Social & Bookmark: It also comes with social sharing options and bookmarking tool. The app lets you share your favourites videos or songs with friends to popular social networking sites and messaging platform. You can also bookmark your favourite videos and songs on the homepage for easy access.
Fast Search: SnapTube comes with advanced search technology and can also be used as a web browser. To make the search faster, the app has custom search results comes with smaller thumbnails. It only takes a few seconds for the search results to display. However, the time taken for the search results may depend on the speed of your
internet connection.
Free & No Force Ads: The app is completely free to download and use, even all the contents and downloaded files are 100% free. Unlike many other music downloader apps, there are no force ads, the ads are acceptable and no pop-ups or redirect ads. The app has a great user experience.
How To Use SnapTube App
First, you will need to download and install SnapTube app on your phone. To download SnapTube, please see the download link given below. Once installed into your device, open or launch SnapTube app as you normally open your apps. SnapTube is a straightforward app, it will present you with the homepage. The homepage displays all the supported sites where you could browse, convert and download.
Apart from the supported Sites, it has the Popular where it displays the top trending songs in a list and Categories tab display all the different categories for easy access.
The left main navigation Menu contains the Download folder, where it stores all your downloads and other settings.
Activate Floating Download Button: For some Android version, the floating download button may not be activated automatically. If it does not display the button, please make sure that the Snaptube app is activated.
To do this, head over to your phone's 'Settings' – 'Apps' – 'Snaptube' – 'Drawing over other apps' – allow Snaptube to show a floating button. (Or in 'Permission' – 'Dropzone applications')
To download a song from YouTube, just tap on YouTube, it will present you with a screen similar to the official YouTube app. On the search bar, browse for your songs. Once you have found or located, just tap on the video to play, once it started playing, there will be a download button floating below.
Tapping on the Download button will give you Download options. Now, select how do you want to download the video. You can download as MP3, M4A and also as video. Here you can select your quality as well.
Similarly, on Facebook, just browse for the video you would to download, once you found, tap the video to play.
Likewise, the steps and functionality are the same for all the supported sites.
To download videos from outside of the supported sites, just copy the URL of the video and paste it into the search box of SnapTube, and tap Search. Follow the same procedures as mentioned above.
To access, all of your Downloads, Music, video, and playlist, just tap on the music icon on top of the screen. These folders will include not only files from SnapTube, but all of your files from your phone as well. If you want to share with friends, just tap on the Sharing icon, it will give you all the popular social networking sites and messaging apps to share.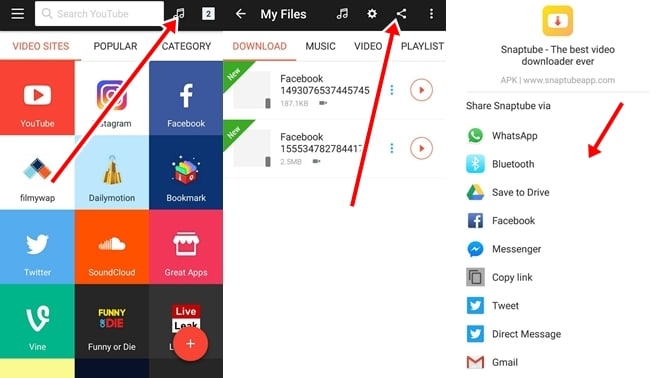 To widen your search and increase the possibility of finding your search results, you can change your region. Go to settings, head over to Content-Location, from the drop-down select region
To Change the Download location, go to Download Path and select your desired location.
You can also set download limits by tapping on the Maximum Download Tasks. Here you can set the limits by dragging the bar and set the number of downloads as you wish. Here you can set according to your connection for Wi-Fi, 2G, 3G or 4G and then tap OK.
To set the download speed, go to Download Speed Limit, if you want maximum speed, you just drag the bar to full for unlimited or full speed and then tap on OK. You can also enable Fast Download Mode.
For all the App Settings, just go to the left main navigation menu, under that you will find all the settings and about the app.
App Additional Information
License: Free
Latest Version: 5.05.01
Size: 7.2MB
Requirements: It requires Android 4.0.3 and up running.
Last Updated: January 11, 2021
Developed & Offered by: Snaptube
SnapTube App Permissions
All Android applications do need certain permissions to works, these permissions are needed to be granted when installing an app. Similarly, SnapTube also needs some permissions to work perfectly. These are some of the permissions required by SnapTube App. SnapTube can read your contacts, modify or delete the contents of your SD card and also read the contents of your SD card. It can also read your phone status and identity. It can also reroute outgoing calls and get your approximate location (network-based).
SnapTube App Download
As common with most music apps, SnapTube app is no longer available on the Play Store. It was recently removed from Play Store, maybe due to a violation of Google policies. However, the developer of the app still keeps it alive on their official website. You can download the latest version of SnapTube app from the developer official website from here: www.snaptubeapp.com.
It is recommended to download SnapTube app from the official site to stay away from harmful viruses and malware that could potentially cause harm to your phone. There many websites and apk sites which claims themselves to be the official app, but most of these apps are often infected with viruses. Please be careful while downloading apk.
For iOS or iPhone, you can download directly from Apple's app store iTunes Here.
In case, if you are unable to install your downloaded SnapTube Apk, follow these steps. Just head over to your phone settings, under your Settings, go to the Security Settings page. Under Security look for "Unknown Sources". In order to install SnapTube Apk or any other apks, you will need to enable "Unknown Sources". Now, mark or tick that "Unknown Sources" to allow installations of apks or apps outside of Play Store.
That's it on SnapTube app free download. You now know everything about SnapTube app, one of the best YouTube downloader or mp3 downloader apps. It's up to you now, whether to use this as an amazing free mp3 downloader app and enjoy unlimited music on the go. If you like this app, please do share this post, so that others may also make use of this extraordinary app. You may also like to check out other related music apps listed below;
SEE ALSO:
Download 4Shared Music App (Latest Version)
Download SoundCloud App for Android & iOS
Download Google Play Music
SuperCloud Song MP3 Downloader App (APK Download)
Simple Mp3 Downloader – Download Latest Version
Music Paradise Pro Download & Review (Latest Version)
Music Maniac Pro MP3 Download for Android
iTube for Android Free Download (Latest Version).