Wynk Music App is a popular Indian based music service like Spotify and Amazon Music which has a variety of genres and regional music. It is the one-stop music app for the latest to the greatest songs from Bollywood to trending International artists. It has more than 3 million free songs to stream and download.
The content ranges from Pop, Rock, Bhangra, Devotional, Romantic, Dance, Party to Old Classics and you can choose your choice of genre. With an amazing rating of 4.3 on the app stores and millions of installs, Wynk Music app is a perfect choice. In this post, we will see some of the main features of Wynk Music, Wynk Music app free download for Android link and reviews.
Finding a good music app is not an easy task, it must have certain functionality or interface that can provide a good user experience. Wynk Music is created to meet these needs and for every mood. Most of us we love to have a music app that is free, simple and easy to use, with lots of songs to stream and download.
Wynk Music app will give you just that. Though it is an Indian based service, it has got all the latest international hot and trending songs. More plus point for the Indians is that it has got all the regional songs in different languages.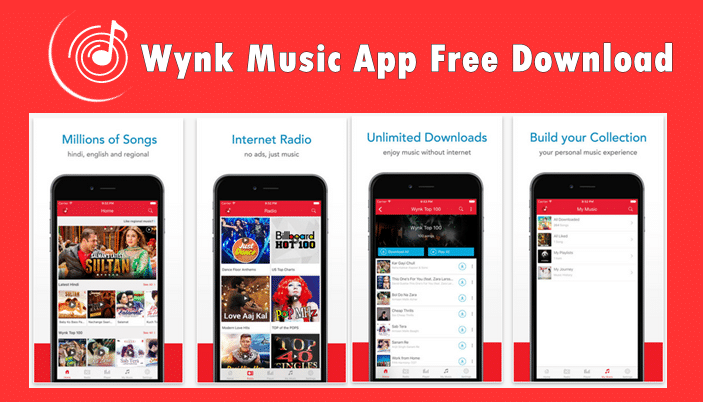 Features of the Wynk Music App
Let us see some of the interesting features of Wynk Music App that makes it one of the best music app and choice of millions.
Clean & Friendly UI: Wynk Music app has a clean and friendly user interface with a red and white visual color interface. The app is designed to be very simple, powerful and light. Even if you are worried about your storage, Wynk Music app will take less free space than most music app.
The app is just around 9.8 MB in size, so it won't take up much space. Wynk Music is a straightforward app and available in both English and Hindi languages. Wynk Music has a smooth and intuitive user interface which makes it easy to use.
Advanced Search & Well Organised: Wynk Music has one of the most advanced music search engines. It takes only a few seconds to display the results. It gives the best possible results and lists all the related songs. Not only that, it gives you that match your search term and list related Album, Playlist and an artist.
Searching is much better than other most music apps. Because of its huge library of songs, chances of not finding results in Wynk Music is very low. The app also has a very well organized home page, where it displays various categories such as Latest songs, Top 100 songs, Favorites, Latest English songs, Top albums, Top playlists, Discover, Top Charts, Popular Artists and Classics.
Huge Database: Wynk Music has a huge library of more than 3 million free songs. Not only it is huge, but it also has all kinds of genres and languages. From the latest Indian Bollywood hits to trending International artists.
It lets users access to a wealth of interesting genres ranging from Pop, Rock, Bhangra, Devotional, Romantic to Oldies. Along with Hindi & English songs, you can also enjoy music across languages such as Punjabi, Bengali, Assamese, Malayalam, Telugu, Tamil, Bhojpuri, Gujarati, Rajasthani, Oriya, Marathi & Kannada.
Is WYNK music free?
Wynk Music app is free to install and it offers free access to millions of songs which you can access, stream and download. The best thing about this app provides unlimited and free music streaming.
It also offers unlimited in-app downloads for offline playing whenever you are. Every song is available for download and you can also set the default quality in which the song will be downloaded. Wynk Music even provides the first-month subscription for free.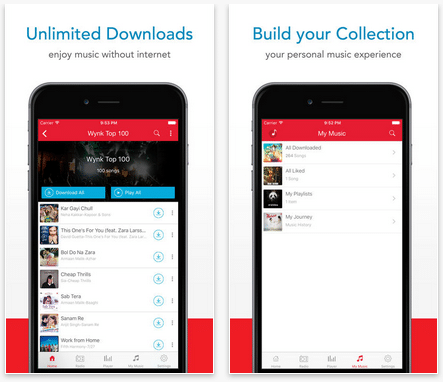 Streaming and Downloading: This is the best thing about this music app, it provides unlimited streaming from thousands of curated playlists or from your own custom playlist. It also an advanced function which lets you stream a song even when you are in a slow internet connection.
If you want to have them for offline listening, it lets you download to your device for free. The app also lets you set the default quality in which the song will be downloaded. There are four different qualities that you can choose i.e. HD, High, Medium and Low.
Built-in Player: Wynk Music app comes with a powerful built-in player with all the basic functions of a music player. The built-in player can play the song in the background, which gives users the freedom to browse or perform other tasks while listening.
Not only that, but the built-in player can also play mp3 files from your device as function as a standalone app. With a pause, resume, forward, repeat, shuffle functions the player gives a powerful sound.
Quality Control: If your concern about your data or in a slow internet connection, the app provides various options to stream and download. Wynk Music is a smart app, it changes the quality of song automatically based on the speed of your Internet Connection.
The app also lets you set different default audio quality. You have the option of choosing auto, HD, high, medium and low as you prefer for streaming quality. In this way, Wynk Music lets you save your data usage where it allows users to listen to high-quality songs on minimal data cost. There is also an option of downloading. The tracks are also provided by the app so that the user can listen to them when offline.
Curated & Custom Playlists: There are many Playlists curated by the app which contain the best songs selected by experts. The app also provides the ability to search any singer and find a playlist. You can also create your own Playlist by adding your favorites tracks in just simple taps.
There is also an option to Like any song and add it to your playlist. You can also download any playlist at one go for your offline listening.
Songs Info: The app also provides accurate information of each song such as the Album Name, Artist Name, Composer, Cast, Lyricist. It also displays lyrics of the songs. Not only that, for further information, they are linked to all the songs or related songs of that particular artist.
Ringtone: Wynk Music app gives you the ability to set any song as your HelloTune by just a single tap.
Radio: It also provides Internet radio for hours of uninterrupted music. It provides the best of the music experiences. Wynk Music makes use of a web radio feature which is a decent feature for radio lovers.
Song & Album purchase. If you want to buy your favorites songs and album, you can also purchase any songs and albums within the app.
Chromecast Support: It has the support for Chromcast, so users can also cast their favorites music to their TV and play it through their sound system.
Ads: There are annoying advertisements such as force Ads or popup ads, Wynk Music lets you enjoy music without any interruption.
How To Use Wynk Music App
Now, let's see how to use this amazing and start enjoying your favorites music on the go. First things first, get the Wynk Music app from your app stores. Once downloaded and installed into your device, launch the app.
Unlike most music apps, Wynk Music App works without registration. You don't need to create an account to access the app. When you first open the app, you will be presented with the permission page, just tap on the Continue button.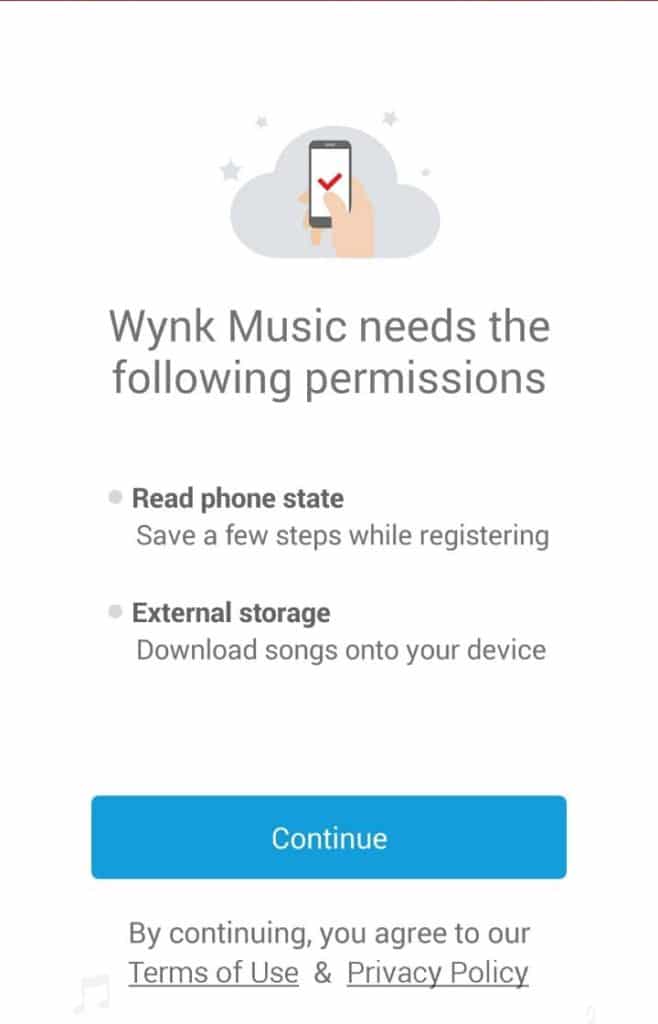 There will popups, asking you to grant the permissions, tap on the Allow button and continue. The next screen is the Congratulations page displaying the features and benefits you get with the app.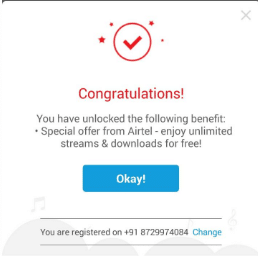 Once you have granted the app the permissions, you will be presented with the main home page of the app. The app homepage all the categories. These include, the Latest Hindi & English Songs, Top 100, Trending Now, Viral, Top Albums, Gym Beats, Recap, Devotional, Classics, Running Mix, Discover, Top Charts. Popular Artists, Moods, Radio and Top Playlists.
On top of the home page, there is a search bar and My Music for accessing to your Offline, Downloaded, Local MP3s and your Playlists. The main Navigation Menu is on the top left of the homepage.

How To Search a Song From Wynk Music App
To Search a song, just tap on the Search on top and enter the name of you wish to search for. Wynk Music App has advanced search functionality, you can even search by artist or album. In case, you forgot the name of the song or artist and you only remember only a part of a song, it will let you search by a part of the song as well.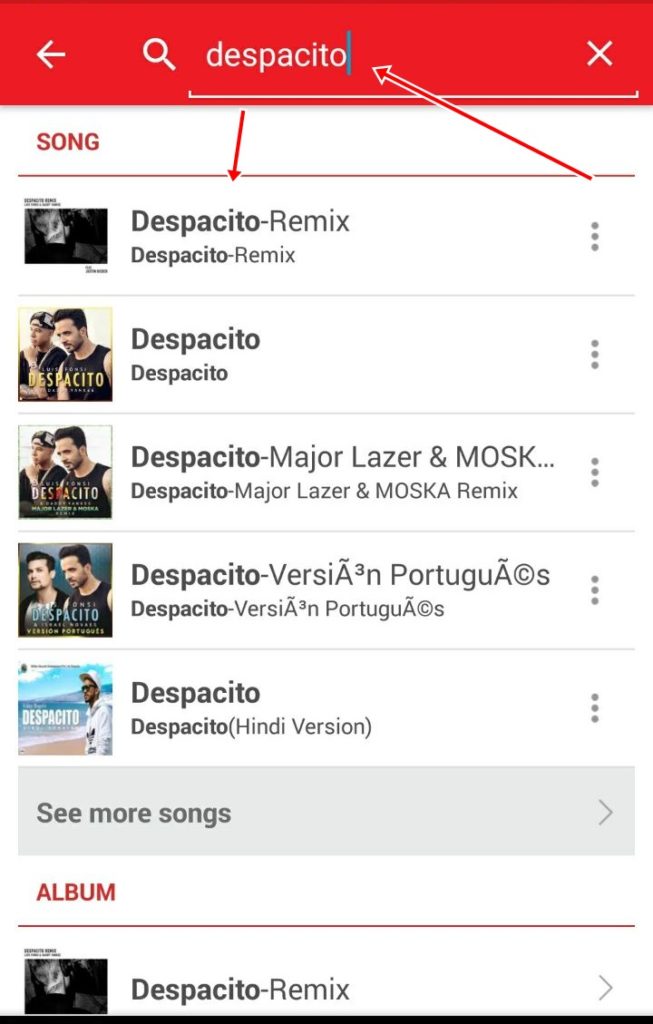 The app will take only a few seconds to search and displays the best possible results. The results will list all the related search term by song, albums, artist and by playlist. However, the time taken by the app to display the results may depend on the speed of your internet connection.
How To Play a Songs From Wynk Music App
To play a song, just tap on the song or the three dots from the right, the built-in player will automatically start playing the song. The player has controls like stop, forward, rewind, shuffle, etc. You can also add the songs to a queue, Playlist and also get the song information as well.
How To Download Songs From Wynk Music App
To download a song, go the player and tap on the Download button, it will start downloading in the background.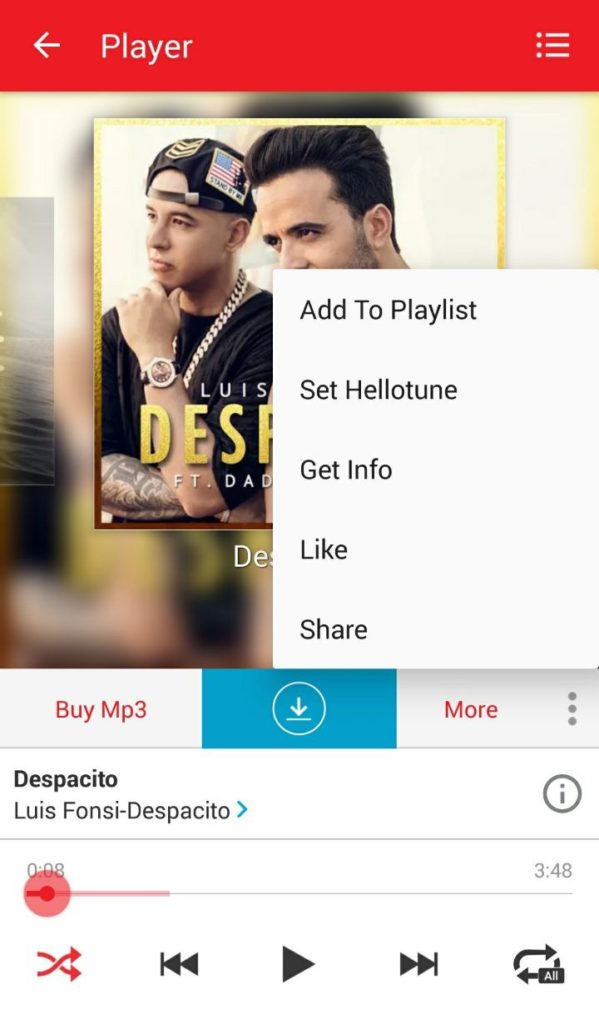 How To Share a song From Wynk Music App
To share a song, just tap on Share, an option to share to popular social networking sites and messaging apps will pop up.
To set Music Preferences such as streaming Quality and download quality, go to the left navigation menu and head over to Settings. All other settings or your music, local mp3, Radio can be accessed from the left menu.
Wynk Music App Permissions
All Android apps do need certain permissions to execute their functions. Similarly, Wynk Music App also needs some permissions. Let's see some of the required by Wynk Music App to work perfectly on your device. However, these are not a thing to worry much about, you automatically grant this permission when you install the app.
This app has access to your device & app history, accounts on the device and your approximate location. It can also read your text messages, phone status, and identity. It can modify or delete the contents of your USB storage. Access to Microphone, network access and read sync settings.
Wynk Music App Download Android & iOS
You can download Wynk Music App from your respective app stores. If you are on Android, you can get the latest version of Wynk Music App from Google Play Store, and for iOS, you can get it from iTunes. Just open app store app and search for Wynk Music, download and install into your device. Once you have installed, follow the above steps on how to use Wynk Music App.
Wynk Music Apk Download
In case, if you are on low storage problem or couldn't download Wynk Music App directly from your app store, you can always download Wynk Music Apk and install it. There are a lot of websites offering apks where you can download Wynk Music Apk. However, many sites are often infected with viruses that could cause problems with your phone. To stay safe and away from such sites here we give you the download link to Wynk Music Apk.
If you are unable to install your downloaded Wynk Music Apk, just follow these few steps. Head over to your phone Settings, under Settings, look for Security Settings. Under your Security settings, there will be "Unknown Sources".
Enable or marking this option will let you install any apk or apps outside of app store. Enabled or marked that "Unknown Sources" to allow installation of Wynk Music Apk and other apks. Once you installed, you can always disable the option again.
Wynk Music Additional Information
Last Updated: 15 May 2019.
Size: It varies with the device.
Current Version: It varies with device.
Requirements: For Android, it varies with the device, usually it comes around 9MB in size. For iOS, it requires iOS 10.0 or later. Compatible with iPhone, iPad and iPod touch.
Content Rating: Rated for 3+
Digital Purchases: Yes
Developed & Offered By: Airtel
That's it on Wynk Music Apk. Feel free to share this post and check out other music apps that we have listed below.
This post was last updated on May 24, 2019.
SEE ALSO:
Download 4Shared Music App (Latest Version)
Download SoundCloud App for Android & iOS
Download Google Play Music
SuperCloud Song MP3 Downloader App (APK Download)
Simple Mp3 Downloader – Download Latest Version
Music Paradise Pro Download & Review (Latest Version)
SnapTube App Download for Android (Latest Version) </ br>
Music Maniac Pro MP3 Download for Android
Music MP3 Download Free CopyLeft
iTube for Android Free Download (Latest Version).