If you are looking for good alternative music streaming services like Amazon music, Spotify, Deezer etc. Napster is a good choice to consider. Napster Music app is a wonderful music app which lets you listen to and download unlimited music across multiple devices. With Napster music app, there is plenty of music to listen to, it has curated mixes of songs for specific moods and activities to personalized playlists based on your taste. In this post, we will see some of the unique features of Napster, where to download Napster Music App and reviews.
Napster was previously known as Rhapsody till 2016, as an online music store subscription service based in Seattle, Washington. On April 6, 2010, Rhapsody relaunched as a standalone company, separate from its former parent RealNetworks. After that, downloaded files come with restrictions on their use, enforced by Helix, Rhapsody's version of digital rights management enforced on AAC+ or WMA files. Napster is a different app now, which is owned by Rhapsody, the first streaming on-demand music subscription service to offer unlimited access for a flat monthly fee.
Napster music is now one of the most popular music apps on the app store. It has received millions of installs with an amazing Ratings of 4.2. It is now available in 34 countries, across multiple platforms. Because of its huge library of tracks, finding new music on Napster is easy with all kinds of music genres. These include such as pop, rock, country, and others like trending, latest releases, top picks, and many more. With a small amount of fee, can stream and download unlimited songs for offline usage.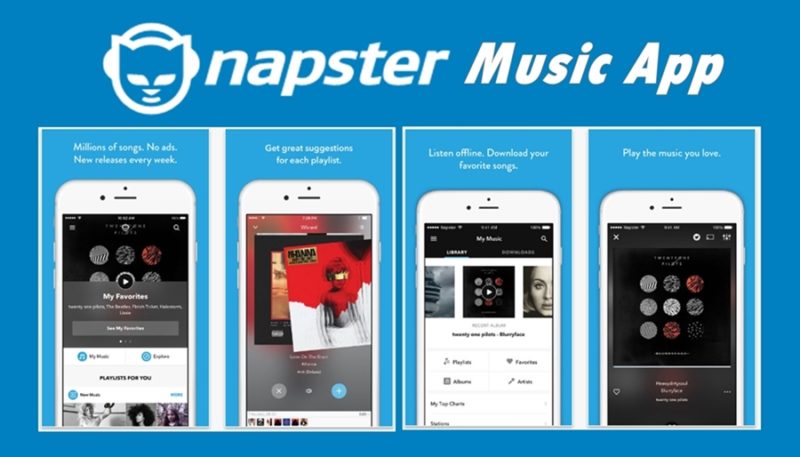 Features of Napster Music App
Now let's look at some of the main features of Napster Music app that makes it one of the best music streaming and downloading the app.
Friendly UI & Smooth: Napster Music app has a friendly user interface with a dark and white visual color. It is easy to use and finding is also easy. The app is light and clean and responsive. When you open the app for the first time, you will be presented with a login or Register screen. Once you are done with that, you will be taken to the app main home page. The Home page display all the recommendations such as latest releases, trending, top picks, and many more. The main navigation menu is on the top left corner of the screen and a search bar is on top.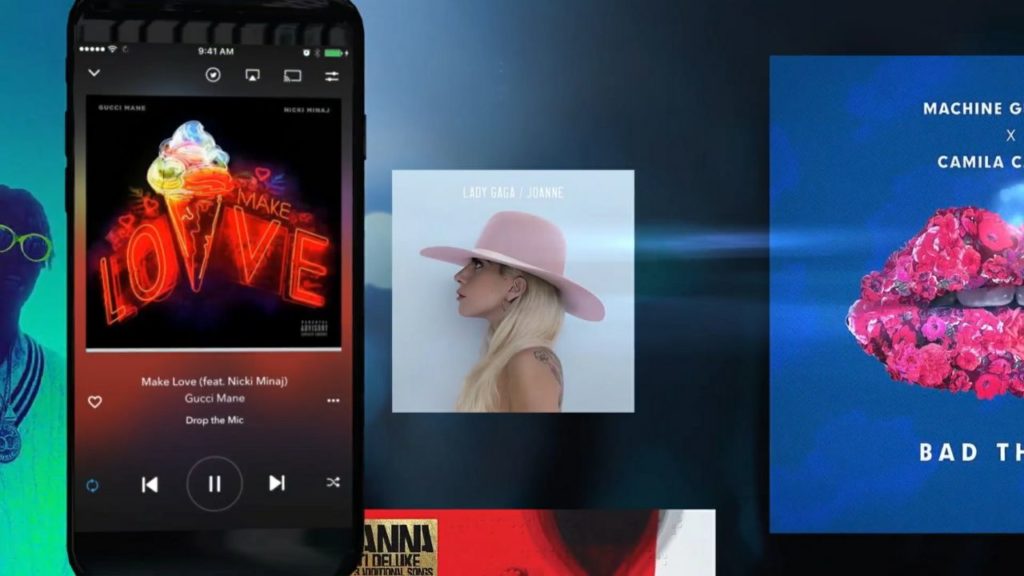 Huge library: Napster has one of the libraries of songs with over 30 million songs. So, with Napster, you will never run out of music with unlimited access to millions of full-length songs, including new releases being added every week. Personalized playlists make it easy to discover new music. With global Listener Network technology, find new music you love through similar listening tastes of fellow Napster users around the world is easy.
Napster Mix: Your personal playlist are updated every day with the best new music from your favorite artists. It gives you a list of new releases tailored to your musical taste.
Personalized radio: You can create your own radio station based on your favorite artist or track, and tune the recommendations to your taste.
Playlist: The new Playlist Maker makes creating playlists fun and easy with smart recommendations based on your taste, and a brand new design that makes it faster to add music you love. You can add songs with just a swipe. With the Suggestion toll, it plays recommendations based on the songs in your playlist. Just Swipe right to add the song, and left for the next recommendation.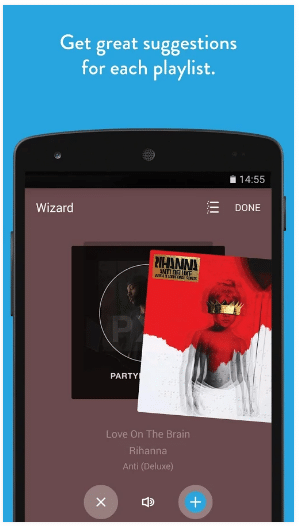 GIPHY: You can choose from thousands of animated GIFs and show what your playlist is all about.
Quick access: You can easily add songs you've favorited or recently played. Even add from your own personal top charts and access them with just a single tap. For easy access, you can add the Napster widget to your home screen to quickly control your tunes and also see what's playing.
Stream & Download: Napster lets you anywhere you go. It also lets you download your favorite music for offline listening, to make sure that you'll never miss a beat. You can download unlimited playlists and songs straight to your phone or tablet and listen offline whenever you are.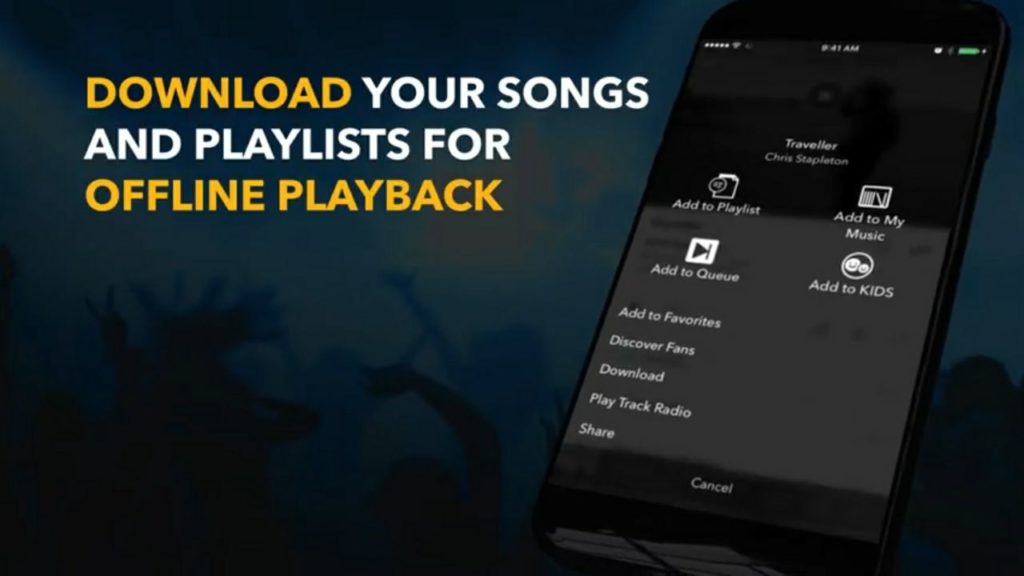 One subscription, multiple devices: On subscription, you can access your music on your PC or Mac via napster.com, Windows device, iOS, home devices, or even another Android device. Your Napster library and playlists are all stored in the cloud and available anywhere you log in.
Personal & Social: Napster lets you discover great new music with recommendations from the millions of listeners on Napster's Listener Network. Not only that, but you can also share all of your favorite music and invite others to listen with a free trial.
You can also compare your musical tastes with other listeners and discover great new music from people just like you. It also allows you to follow playlists from other members or our music experts, and automatically get updates whenever they change.
Multiple Device Support: Napster music lets you stream music with your account to hundreds of compatible devices such as on iOS, Android, and Windows. And audio hardware including Sonos, Wii U, Chromecast, Denon, etc. Connect wirelessly and play on your home audio system. There is also a Kid mode to let your kid be the DJ with a curated collection of kid-friendly music.
Napster Music App Download
You can download the latest version of Napster Music app from your respective app stores. If you are on Android, just open your Google Play App and search for Napster Music. From the list of results, select Napster Music, it will automatically download and install into your device. Or you can download directly from here the free version of Napster Music. Similarly, if you are on iOS, open your iTunes, search for Napster Music, download and install. For direct download get it from here Napster Music.
Napster Music APK Download
In case, if you are on a low storage issue and can't install Napster Music app directly from the app store, you can download Napster Music apk from the below link. It is recommended to download Napster apk only from the link we have provided to stay away from the unwanted virus. There are many apk sites that are often infected with malware that can cause great harm to your phone. Download Napster Music apk.
If you are unable to install your downloaded Napster Music apk, head over to your phone Security Settings. Under Security setting look for "Unknown Sources". Now check or enabled "Unknown Sources" option to allow installation of Napster Music apk and other apks.
Napster Music App Additional Information
Last Updated: December 12, 2017
Size: It varies with device
Current Version: Varies with the device
Requirements: For Android, it varies with device. For iOS, it requires iOS 9.3 or later. Compatible with iPhone, iPad, and iPod touch.
Content Rating: Rated for 12+
Developed & Offered By: Rhapsody International, Inc.
That's it on Napster Music App. Overall it is an excellent, and easily the best designed and most intuitive music app on the market.
RELATED MUSIC APPS:
SnapTube App Download for Android (Latest Version)
Free MP3 Music Downloaders: Best Apps to Download Free MP3 Songs
Wynk Music App Free Download for Android & iOS (Latest Version)
Download SoundCloud App for Android & iOS
Download 4Shared Music App (Latest Version)
SuperCloud Song MP3 Downloader App (APK Download)
Download Google Play Music
Simple Mp3 Downloader – Download Latest Version</>.